Celebrating Independence — Reading July 2
In honor of our nation's birth, BAWA* dedicated its July reading to poems about Independence.  But finding poems about independence was not as easy as it might seem.  There are many poems about American history but about the concept of independence is another thing.  Each of our readers took different tacks with this.  Our readers looked at some poems that played with mis-hearing the words to famously independent parts of our heritage (the Star Spangled Banner and the Declaration of Independence) and then moved on to poems themes about times of life when we experience independence, like marriage, going off to college, liberating events, and the statue of liberty.  The reading ended with poems about cats who are about the most independent creatures on earth!  Sabrina, our dedicated baker, provided us with cake pops decorated with stars and stripes.
Alex Girardot and Kat Skibbe waiting for the reading to start. Kat came all the way from Minneapolis to hear this reading!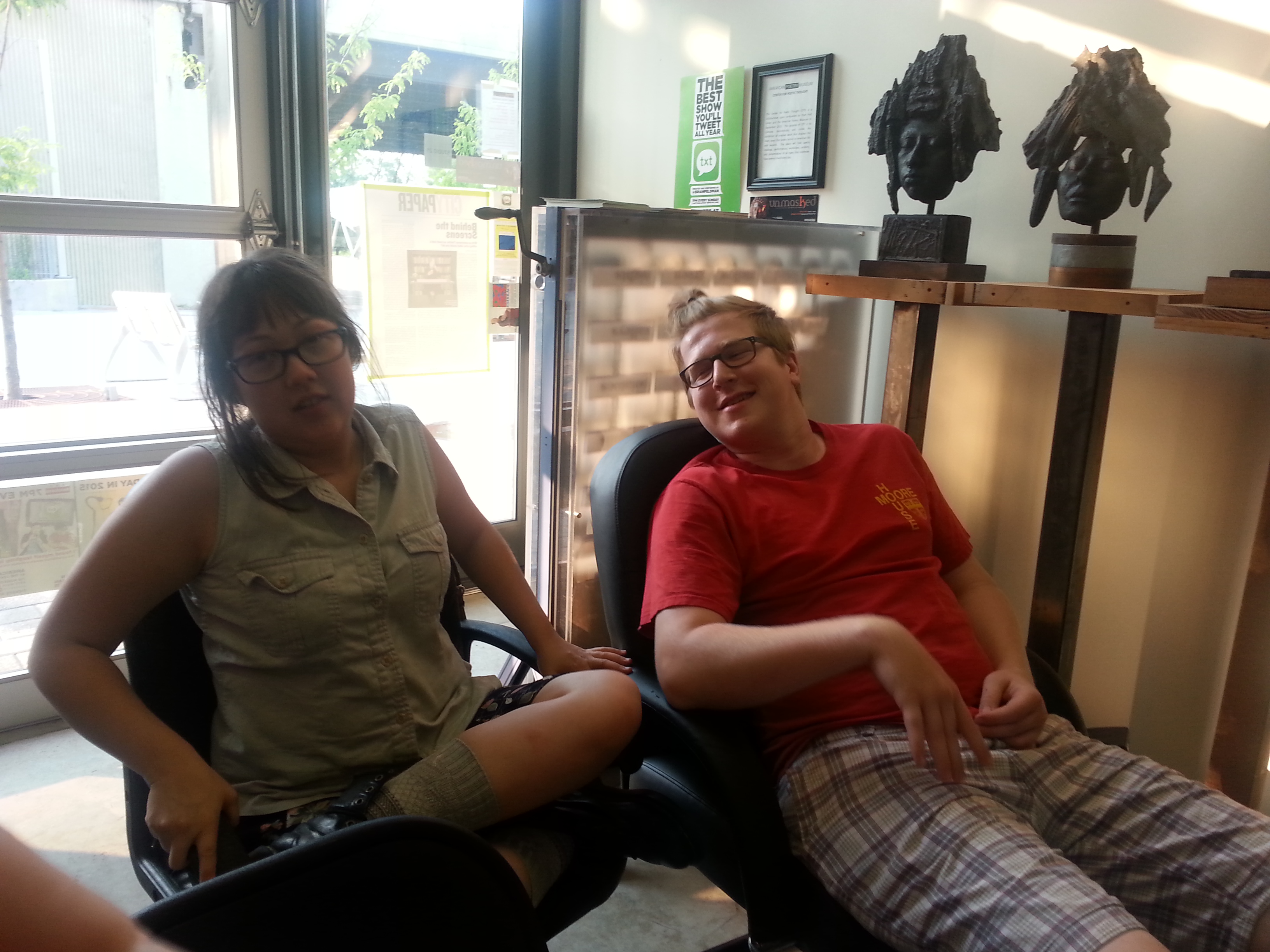 waiting for the reading to start
Here is what we read on July 2
Read by Natassja Linzau
The Panther by Rainer Maria Rilke
Wooden Bird by Zbigniew Herbert
The Pit Ponies by Leslie Norris
On the Pulse of the Morning by Maya Angelou
Maggid by Marge Piercy
Wild Geese by Mary Oliver
The Journey by Mary Oliver
Leap of Faith by A. M. Rhamzy
The Idea of Order at Key West by Wallace Stevens
Read by Susan Scheid:
The Star Spangled Banner by Denise Duhamel
Shorter American Memory of the Declaration of Independence by Rosmarie Waldrop
My Timid Eternity by Mary Ruefle
Statue of Liberty by Claire in 2nd grade at PS 276 (NYC), thanks to Poets House pocket postcards
On the Steps of the Jefferson Memorial, by Linda Pastan
Postal by B. C. Edwards
For a Daughter Who leaves by Janice Mirikitani
Liberty by Archibald Macleish
Cat in an Empty Bedroom by Susan Scheid
Little Red, by Susan Scheid
Rapunzel by Susan Scheid
The Cat's Song by Marge Piercy
The Backyard Mermaid by Matthea Harvey
When we're told we'll never understand by Ed Madden